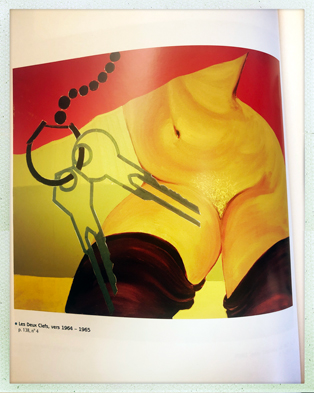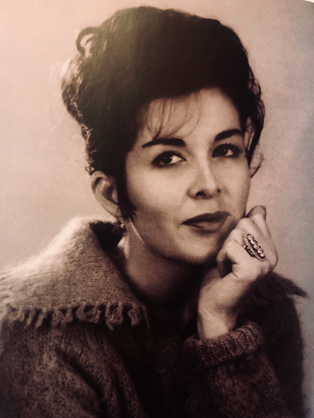 «Axell: an Artist ahead of her time»
Fifty years ago, Eveline Axell and Yayoi Kusama, Niki de Saint Phalle, Valie Export, Hannah Wilke, Carolee Schneemann and Marina Abramovic to mention a few, had the audacity to question the strong male cultural discrimination towards women artists explicitly performing, filming or painting their own nudity.
Almost around that time, during a meeting with Marcel Duchamp and Man Ray, after introducing herself as a painter, Axell notices Man Ray's grimace and knows "they" didn't take her seriously.
This brings us to 1963, the year she moves with her family to a house with her own studio in Brussels. In the basement of this house, they have a dark room. Both Eveline Axell and Jean Antoine are photographing.
Around this time, she is taking classes with René and Georgette Magritte who happens to be an exceptional oil painter.
Around this time, Jean Antoine with his documentaries "Dieu est-il Pop?" with Jean Dypréau, "L'Aventure de l'Objet" with Pierre Restany and "L'Ecole de New York", introduces his passion to Pop Art and New Realism to Axell. Jean Antoine's document first hand for europeans the artists Jim Dine, Andy Warhol, Lichtenstein, Marisol, Segal. She meets during the filming in London Allen Jones, Peter Phillips, Pauline Boty, Patrick Caulfield and Joe Tilson.
Her husband Jean Antoine influenced her artistic career from the very beginning. His friends, professional connections and constant invitations paved her intellectual maturity towards a phenomenal painting process. The self-taught talented painter performer had around seven years to produce an incredible body of work.
Eshibition at the Musée des Beaux-Arts d'Ixelles 1997
After major restorations, and with the support of Axell's friends and collectors, Jean Antoine definitely establishes her work as a relic. Axell exhibits in 1997 at the Musée des Beaux-Arts d'Ixelles as an iconic artist. Unfortunately twenty-five years after Axell's brilliant career is abruptly interrupted. Her small body of work since is mainly curated in museums.
After Jean-Antoine's death in 2016, Philippe and Els Antoine are in charge of exhibiting his mother's work. Tate Modern, Centre Pompidou, Brussels Fine Arts Museum and now Muzeum Susch are some of them.
James Mayor exhibits Axell's work in 2003 and 2005: Axell was ahead of her time.
Her catalogue raisonnée is published in 2004.
"Axell was ahead of her time", says James Mayor. "Monique Bréhier who ran Sotheby's in Brussels, was the first person to tell me about Axell. She arranged an introduction to Jean Antoine, Axell's widower, whom we duly met. I remember well going to his Brussels apartment which was completely full of Axell's work. We initially chose the acrylic on canvas work from the early period ,when she was supposedly taught by Magritte, because the condition of them was in an exhibition ready state. The subject matter of these works, like most of her works was very sexual and involved a lot of cars and their parts which were all quite phallic and strangely may be foretelling her death in a car crash.
This show was perhaps her first one person gallery show, after the museum show that Jean had organised nearly 30 years after her death.
The remaining works mostly involved plexiglass which had warped over the years and I tried to persuade Jean to invest in restoring these works which really represented the hippy/ psychedelic era, which was just beginning. The second show and last show that we had was with these works, sadly it was not a great commercial success partly due to the condition of the works. We did however sell some of the smaller more erotic ones at various major art fairs. Unfortunately most of the works we had sold have been resold by the original buyers for varying profits.
Jean Antoine devoted much of his time from the late 1990's until his death in working to reestablish Axell's reputation and well deserved position as an important figure in the history of the late 1960's and I am extremely grateful to him for letting me be a part of this journey."The actress, TV anchor, performer, painter who once experimented with pottery, was also the wife of a film maker with 21 and a mother with 22. She writes with 25 the script for a film directed by her husband Jean-Antoine called Le Crocodile en peluche approaching the problems a black and white couple face due to racism."
Axells keyword: freedom 
If asking who Evelyne Devaux was, Philippe Antoine describes his mother as a women who rebelled against all stigmas coming from a catholic middle class family. Her keyword: freedom. "She became Evelyne Axell but remained Axell, a free emancipated sexually androgynous artist. She was shortsighted, she was self-conscious and she no longer was dressing up as a princess like her mother wanted."
Jean Antoine photographed Axell but since they "didn't live together" due to his constant assignments it is her who is making the own selfies. Her photographs function as a source for drawings before painting or making her collages.
Axells's nudity is autobiographical, poetic, sincere, is sensual, feminine, is bisexual, direct, is free, erotic, is actual, is not judgemental, is our nudity and it is my nudity!
Her struggle against the male dominance in the art scene is mainly a struggle that hasn't finished and most probably barely started.
In 1989, the Guerrilla Girls exhibition at Tate Modern had the following question: "Do women have to be naked to get into the Met. Museum?" and they added: "Less than 5% of the artists in the Modern Art Sections are women, but 85% of the nudes are female."
Not much has changed since the 60's not much changed back in 1989 and not much has changed in 2021. Not much has even changed since the 1600's.
As an example I mention out of the many iconic paintings Axell reinterprets, Diego Velázquez's Rokeby Venus, which she calls Auto-stop as a symbolic way of approaching vehicles, one of the main symbols / cliches of masculinity. Axell is the venus who lies on the road. Initially her études had a car on the road but since she was revising and constantly recycling her paintings, the road is empty. She wears a helmet not a turban.
Claas Hulshoff divides her experimental work under seven different periods
. first period 1964
. second period 1964 – 65
. third period 1966 – early 1967
. fourth period 1967
. fifth period late 1967 – early 1969
. sixth period April 1969 – early 1972
The 1965 "Seule, une Femme ou Le Timide Embryon" resembles Leonardo da Vinci's "Studies of a Fetous" from ca 1510-12.
It is during her third period that she becomes more pictorial and her identity transposes her own framing. She still uses oil but uses car spray-painting, becomes more luminous and silently expands her confrontational gender identity. She paints "Couchette Orange & Bleue" and creates the silent movie "Noire et Blanche". Her aesthetic has two sides, two poles, two colours and double bodies. She is in dialog with both sides of herself.
Her polyester resin technique is enhanced in 1967 with the use of fibreglass and her works express the colourful effect of light on a third dimensional way. "La Fille de Feu" arises during this period with shapes that remind some of the Zero Group concepts. Axell makes use of the transparency that Clartex offers to transform Le Geste on a work that resembles Duchamp's "The Large Glass" effects.
During her sixth period she creates a series named "The Opalines" and writes in 1969 on a letter to the art critic and good friend Pierre Restany:
'I call the faces and bodies that haunt my works "the OPALINES", they are twenty-first-century odalisques cut out from the Milky Way and adorned with enamel and aluminium. I get this name from the milky and translucent material I use: Perspex opaline from the polyester family. I have entitled my exhibition "Pierre et les Opalines" because the only male element is a portrait of you (…)' and I complete, the only female element is taken from her own portrait".
On her 1971 and last period, she uses on larger works Perspex, Formica and painting.
On one of them, "La Vénus de Milo mise à nu" dated 1972, she includes a drawing of herself as venus without arms wearing sunglasses. Her smaller works are mostly drawings made with ink and felt on paper. She shows during this period, her evident interest and passion for greek mythology.
Her latest period results before her visit to relatives in South America. She produces landscapes on collages and painting that are similar to the landscapes of Guatemala.
Her paradisiac works are a wake-up call towards our ecosystem. She portraits herself as a dreaming viewer as part of an environment. Her body geography expanded into idyllic landscapes.
After visiting her Uncle Jean Devaux in Guatemala, she is determined to leave Brussels. She makes plans to move to Mexico where she had already rented a studio to start preparing her next exhibition in 1973. David Alfaro Siqueiros would curate her work at Palacio de Bellas Artes in Mexico City.
Amazonie is her last work, a sketch of trees she left unfinished in her studio. Was it a drawing depicting new roots or new beginnings?
A car accident occasioned by a drunk driver who wasn't wearing a safety belt cuts her life short. Axell was sober and was held by her safety belt. She didn't consume alcohol since her hepatitis in 1970. It was an automatic american car. The driver was apparently confused. She was 37. Axell was no longer a joke.
On Axell's poem "Bio-Botannical Freedom: The dissolution of the Self" her dialogue between Me and She goes as follows in harmony with memory and reason: "Whoever loves her may unmask themselves and follow her!" There is a younger generation of artists like Jenny Saville, Renee Cox, Catherine Opie, Carrie Mae Weems and Leah Shrager which remain on her path "in search of the lost paradise" adding the actual digital environment as part of their artwork.
Fifty years later, the exhibition New Time, Art and Feminisms in the 21st Century taking place at BAMPFA between August 25, 2021 and January 30, 2022 tackle the theme feminist art as a revolutionary strategy and a way of life.
Themes incorporated by Axell in the 60's and 70's at a time when Flower Power and protests against the Vietnam War were serious issues. The women then knew, being part of a post-war generation, how valuable Freedom was. They fought for fairness and against segregation.
Many succumbed crossing the borders of new representations during the spirit of 1968. Others like the activists Gloria Steiner or Caroline de Bendern – photographed holding Vietnam's flag during the May 1968 demonstrations – survived the promising Age of Aquarius.
Axell documents in 1970 that moment with a trypticon she named "Le Joli Mois de mai". On the left side of the trypticon the portrait of a man who reminds Pierre Restany, in the middle a very colourful group of naked women on a front row behind them one other women in a higher perspective supposedly as part of a crowd holding a red flag. On the right side of the trypticon her portrait holding with the right hand a bucket of red paint and the left hand a brush with red paint. A clear allusion to Delacroix's 1830 painting "Liberty leading the People".
Jonathan Fenby, writes in his book "The History of Modern France": "student discontent was spurred on by overcrowding and the selection process backed by the government of Charles de Gaulle, who had been president of France for 10 years. The faculty in the Paris suburb of Nanterre became the fulcrum of agitation stemming from anger at rules in sexually segregated hostels where students were not allowed to receive visitors in their rooms or make any alterations such as hanging pictures. A galaxy of groups mobilised, calling for a new social and human order with a greater place for the individual."
That strongly aggressive fight to preserve human rights and the bubbling urge for eminent change no longer exist.
In the Age of the Pandemic however, at a time when dreams must exist, a clear question hangs over our vain heads: What next?
Exhibition:
Evelyne Axell: Body Double
Curated by Anke Kempkes and Krzysztof Kościuczuk
With Special Participation of Sylvie Fleury
1 August 2020 – May 2021
www.muzeumsusch.ch
Muzeum Susch presents «Body Double», a retrospective exhibition of the Belgian Artist Evelyne Axell (1935-1972). With her original feminist approach in the 1960s Axell became one of the pioneers of Pop Art in Europe. Her distinct body of work is populated by an all-female universe, transcending the established iconography of Pop Art at the time and reclaiming the discourse of women's sexuality.
NACH OBEN