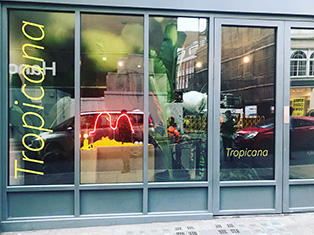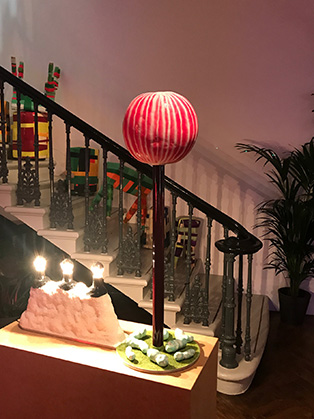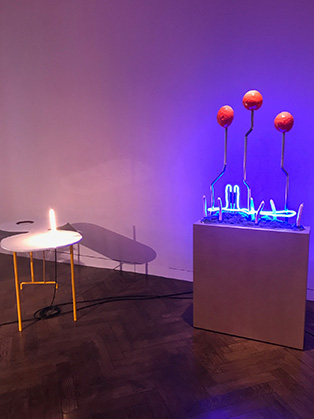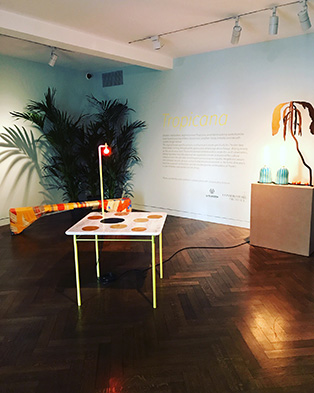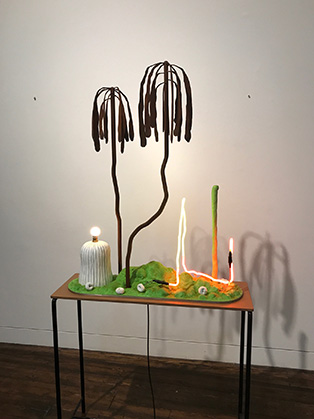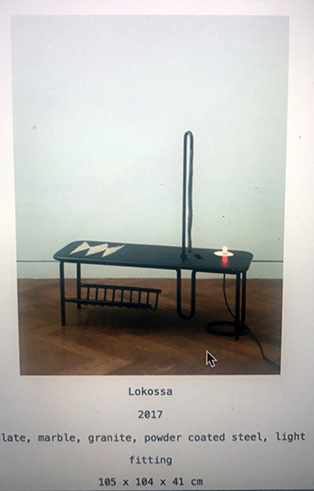 «Who is Andreas Siegfried?»
A quite elucidative interview with art consultant, curator and collector Andreas Siegfried during «Visual Vertigo» – the exhibition he curated with chilean artist Anton Alvarez at Espace Muraille in Geneva: but who is Andreas Siegfried?
A swiss citizen, living in London since over 25 years: «I always had a passion for London. The very first time I came here I was a model. Of course it changed a lot. I saw the way it developed in all these years. I am still not tired of it although it is becoming more dangerous but then the whole world is becoming like that. It has drawn the eclecticism in England. Here yon can be whatever you want. You can walk around half naked, or in pyjamas and buy your blueberries in the supermarket. Who cares? Nobody. I like that to have my artistic freedom of some sort. In Switzerland everything is organised, which in essence is not a bad thing, but if someone would act like that they would be considered a crazy person. I came to England to study at Sotheby's and after that I was offered a job at Christie's to work at the jewellery department whilst studying gemmology. Later I moved to New York and transferred to Geneva a year later. I realised quickly to work for an auction house wasn't my thing. I started a career in fashion PR and retail and was the co-owner of the franchise of Christian Louboutin in the UK. In my late 30's I had a moment of enlightenment and decided to start a career in the arts».
When did you decide to work with design particularly?
I seldom work with just design, but I was always interested in art that comes close to design. I am not an expert in the field but I like to collect all sorts of design for myself. Through my previous work at Art Basel and as a collector of course I do go to Art Basel Miami Beach Fair where I discovered Anton Alvarez. I started buying his objects. Once I got to know him personally. It was him who actually suggested me to show his designs. I sold it to various clients and then I was approached by one client to ask me if I could curate a show with Anton at their gallery in Geneva. I strongly feel that as an Art advisor I need to be open to a variety of ideas that cover my radius in the Art world.
As a trend setter, why are you taking risks to show artists that only a few are showing?
I think it probably has to do with my personality. I hate anything mediocre and conventional which is mainstream, obviously my strength is my eye . This is something I have developed over the years. My grandmother was an artist. I always had an eye for beautiful things. Over the years, living in London, one of the centres of the cultural world, visiting exhibitions and seeing artistic things on a regular basis . Also my frequent world travels into different cultures, traditions open my eyes and show me a different perspective, one where even a landscape can be art. I am always up to discover new things, to discover new terrains and new entities. This is, I find the best way to start an eclectic collection. London, the international
place it is, gives me the opportunity to showcase art, that has influenced my taste and vision. People here like to see the unusual. This is also one of the main reasons why I made LONDON my home as in Switzerland for example, people are much more conservative and slightly narrow minded when it comes to be a bit more experimental. Collectors there tick differently: you have to show names, brands, in a sense that people are reassured.
When I plan a show at my house I invite friends and collectors to my house, which is a place where I want to showcase this experience . How to live with art, eclecticism and within that showcasing new talent.
You were one of the first ones to create a private space gallery in London, right?
At the time about 6 years ago, yes. Now there are several people that have similar concepts. It shows to me that the art world has changed and the gallery space per se no longer works as such.
Why did you decide to start a private gallery in your house?
I call it a private projection space! The reason I did it is because I had the opportunity to buy the flat bellow mine. With a little advice of my father and financial help of my partner I decided to do it. I never regretted the decision. I opened my first show with the photorealistic painter James White! The show was a huge success and gave me the ambition to further developing this idea. Meanwhile I have staged over 18 shows there and elsewhere in the UK and Switzerland. It seems the Swiss seem to get my concept after all which is very rewarding!
Showing art at your house, how important is beauty for you being an aesthete?
My priority is to create a balance that is relevant and has gravitas still. I show important artwork that can be considered as beautiful and you are surrounded with comfortable yet beautiful design. But beauty is relative and what I find beautiful might not appeal to someone else. The work of arts that surround me are what determines my personality, create a very specific atmosphere and reflect what I wanted to create within a specific room. Once I got this than I can work around it. I love sharing my ideas which are very personal with my clients. One of my clients asked my almost 10 years ago if I could help her finding furniture and art for her vast apartment in Switzerland. This has been an ongoing wonderful project where we both learned from a very interesting, fulfilling journey into the art world.
In spite of your colourful personality, you became a well established art dealer. Like most swiss people, you are quite humble when talking about yourself. You held an important role within Art Basel and now with Masterpiece fair. How do you manage it?
Important is relative. I was in charge of VIP collectors and Museum directors for Art Basel in the UK. I am part of the Artwold for quite a few years now and have made my experiences, good and bad. There tends to be quite a bit of pretension and self idolisation in that world, as dealing with beautiful things can be seen as superficial. It can but it doesn't have to! I think in whatever business your in, one should always be humble and fair. This is my credo and I prefer to work that way. I guess I have learned that from my father. He was a humble and fair man although born into a prominent Swiss industrial dynasty. I left Switzerland also partly because I wanted to be a white canvas in London where provenance was not important. Do it yourself with no vitamin B, my dad used to say. I think his strategy worked. People seem to appreciate me partly because they see me as an honest and no bullshit person.
In london I see myself as a tiny little fish in a huge pond. But I never believed in size being the most important. The smallest piece of jewellery can be much more exquisite as some vulgar large piece. I' d like to compare myself to a very colourful, relevant and unique little fish in that huge pond. I rather have a small client base, but a very good community of collectors who trust me. I can be ambitious without seeming ambitious.
Are you friends with all your clients well as artists?
I would say so, yes
I think this is very important element. For me the human interaction, the rapport from either artist or client is crucial. I would not even deal with anyone I would not appreciate fully! Life is too short! Human interaction is crucial and of prime importance.
You are always laughing and smiling. You have a colourful personality in many ways. Do you think this is something that encourages people to work with you?
Well, I hope so, yes! I feel so privileged to do what I do! I have no reason to be negative. To have the freedom to do what you really like is huge! We all have different talents, mine is being visual. I'm not an intellectual guy hence I don't spend hours reading about art . Being visual I need to constantly see things. When it comes to art forms I am not a huge fan of conceptual art that is pushing human boundaries. Art I'm attracted to is making me happy, smile but also think but in a positive way. I am not that kind of person who will put this most conceptual piece on the wall and think "I am so cool".
When you identify with an art work, is it your intuition, does it come from the inside?
Obviously, I don't know every artist that I sell. There are artists that I sell well because I know their emotions and their feelings. There is a lot of art made by artists I haven't met. I love what they are producing and I could imagine the feeling a particular artist will have projected into his work.
I could never go to an art fair for a client, find the most expensive piece for them just because they have the cash. I would recommend either one or the other work according to their financial sources, however I need to be able to speak for the artist and give the right reason why they should get this particular work. Transparency is everything. When I'm working with clients at art fairs I'm foremost honest and transparent even when the deal seems too good to be true. Honesty and transparency will help you keeping your clients on long term.
There are many artists in London who appreciate your visit, it means a lot to them when you visit them. How important is it to visit their studios?
I go whenever I feel I need to visit them. It comes in phases. You need to start a dialog with the artist And the rest will follow. It is obvious one needs to visit their studios and get into a conversation with them as otherwise you would not understand the meaning of their practice.
Even if though not showing that, you are quite "bodenständig"…
Yes, I guess thats my Swiss education.
…and also quite spiritual?
I think we are all on a path and in search for that. I think if you come to a certain age and if you really don't feel that you are not connected to something spiritual on a search for the truth, then I think it is kind of sad because there is something in you that is not right. I tend to not hang out with people that don't feel that. I am not saying you are going to have to be religious or spiritualist… but if you see someone a total atheist, who doesn't believe in anything, doesn't believe in life after death, that kind of translates into the persona of the person, of this particular person. The way they live their day, the way they don't care… and then you really think actually you are old enough to choose your people. Less is more. Thats why I have a few friends I relate to whom I love. I am not a name dropper and I am not accumulating peoples names on any agenda.
Why aren't you taking part of fairs?
I am not an art dealer. I am per se an art adviser, I don't represent any artists, I work from home. I hope to give a platform for artists that then will be discovered further by galleries or institutions and so slowly build their career path.
When you are going to all those art fairs you are working backstage directly with the art dealers and gallerists, a different scene from the one most people see or understand. How would you describe that backstage scene?
For over 10 years I worked for Art Basel, on a level where I was networking on the highest level to bring new VIP clients to the fair. Working for an art fair is very interesting as you see behind everything. You have a selection committee that you know, the people who choose the galleries or the projects that are being shown in the fair, you work with the gallery staff… And as an adviser I of course have clients who want to buy art pieces from these galleries. The good thing is that I know all the sides and parties involved. This makes my job interesting because it is multi faceted on every level.
Are you dealing with secondary market works as well ?
Yes, I do at times. However, I really believe that when you work in that market you have to be aware that you are dealing with a different sort of people. As there can be a lot of money involved it is crucial you know all the people involved in such a deal. And also that you are not part of a chain of dealers trying to make a deal at any cost. Often my energy levels are not sufficient to enter in such transactions.
Which fair is better, Frieze or Art Basel? Chicago or New York?
Given my experience, I can honestly say that the best art fair is Art Basel. All three of them are equally important. The city of Basel, where the original Art Basel was founded, is a magical place for the arts. The city always had an important art mécénat (patronage) by various important families based there . The museums and art collections are all exceptional. There is many other major art fairs that are good and worth visiting. London based Frieze is not bad. Frieze has Frieze Masters which makes it more relevant as it shows a more in depth experience showcasing art and artists. FIAC in Paris is always a treat! Alone the Grand Palais is worth a visit. I reduce myself to visit a few fairs as I prefer quality over quantity. For younger talents there are a few good smaller fairs such as Liste in Basel, Nada in NYC and Miami, or Independent in New York or 1.52, the African fair, are in my opinion the best ones.
Which Bienniale is the best one?
I would say Venice of course is the most important one but not necessarily the best at times. There are a few others that are relevant such as Istanbul, Kassel, Münster, Berlin, Riga in Europe, or even Havana in Cuba.
Geographically how are you setting new trends? Are you exploring Latin American countries Africa or the East?
I am interested in african art of course, but then that requires a discovery trip. I love south american art and have shown already 2 Cuban artists at my house. Michel Perez Pollo and Leandro Feal, both Cubans. I love Latin countries for some reason I feel I am very drawn to these countries. Maybe, in my past life I must have lived somewhere in South America.
Any message for our swiss readers? If there is any?
Get out of your capsule of comfort, just be open! Open to new experiments, new visions, travel a lot. Go see other things. That for me is most important. I am out of Switzerland although I love that country and I do go back because I do shows as well. Every winter I do a show in Gstaad. There I have been showing the likes of James Franco (yes, the hollywood actor), Maria Thurn and Taxis as well as young talent Egle Jauncems. This year, over Xmas I am showing a few pieces by Anton Alvarez and then later in early February a painting show by the late French artist Pierre Lesieur.
Now coming back from England to Switzerland has a different meaning. Because I have a vision with a project in mind, I have a goal to achieve. It is challenging to me also because the Swiss collector has a different profile than the one in London. Despite my exhibitions in Gstaad, and my various projects I had done for many years in London, I was already 45 years of age when my dad finally approved on my activities and showed real respect for me. My dad was never a fan of the arts hence that's why it took him so long to finally take an interest in my projects.
Why did you decide to organise shows in Gstaad?
Gstaad has a huge potential. It has a very rich public that has a lot of time to its hands … There are some of the biggest art collections concentrated in Gstaad. There is room to showcase good art in Gstaad. Apart from Hauser&Wirth, there are few galleries presenting shows/artists that are relevant. The opportunity to show there arose, because a collector friend of mine has this little quaint chalet in Saanen village. It's ideal to showcase young talent in a very intimate cute way. The shows are always in February, the entire month, because thats the high season there.
Anything else you would like to share?
Swiss art people! Come and visit me in London or Gstaad this coming winter 2019! Please check my activities on my website which is
www.siegfriedcontemporary.com
Currently I am showcasing Anton Alvarez at Chalet Mittelgaessli, Dorfstrasse 79 in Saanen.
From February, 10 on I am showing a survey of paitings from the years 1980 to 1995 by the late French painter Pierre Lesieur at Chalet Farb, Farbagrasse, Saanen as well as at Chalet Mittelgaessli in Saanen.
In April (date tbc) I will do a solo presentation at my house in London with Germain painter Maria Thurn und Taxis.
NACH OBEN