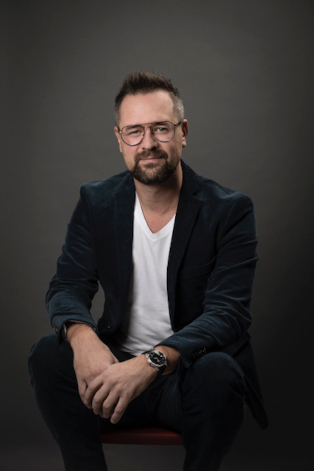 «Wonderful Montreux Jazz Festivals»
Three personalities who make a difference to Montreux, assuring that the Swiss Riviera iconic city maintains its tradition as a world renowned cultural center in the music industry as well as one of the main spots in the education with all its liceums and boarding schools.
«If you want peace of mind, come to Montreux»: Freddie Mercury.

Montreux was the chosen residence of Tchaikowsky, Oskar Kokoschka, Vladimir Nabokov, Nina Simone, David Bowie, Freddie Mercury, Horst Tappe, Dame Joan Sutherland, Charlie Chaplin and many other celebrities including Claude Nobs and the pioneer Dr. Niehans who founded La Prairie Clinic in 1931.
 
Tim Daum, Family Office Services & Lifestyle Management for UHNWI

During a dinner with a friend, I asked her how she would describe Montreux and her prompt reply was: Gelassenheit; especially this year after the pandemic! Accustomed to attend the Jazz Festival, Montreux has always been, since her adolescence as a student at a boarding school in Fribourg, the city to socialise during cultural events or just to meet friends.

For Tim Daum, it's the city where one of his best friends and business partner lives and where he founded his Firm. He tells me that his partner is German but has lived in Montreux since he was 15 years old when he moved to this city to study at the traditional Institut Monte Rosa.
He visits Montreux 7 to 8 times a year and his impression remains the same: I really like Montreux and it makes me feel well to be on the Swiss Riviera.
Tim Daum established his company in 2015 and during all these years he has not forgotten the impact of bliss he felt when driving towards Montreux for the first time seeing the immense lake of Geneva with the snow-capped mountains in the background. A breathtaking panoramic view that cannot be compared to any other place in Switzerland. It was at that moment that he fell in love with the city.

For him, Montreux is more than a city on the Swiss Riviera. He considers its location excellent in relation to distance from Vevey, Lausanne, Fribourg, Verbier, La Gruyere, Gstaad, Crans Montana; he considers the easy access to both the lake and the mountains an advantage. Plus the landscape is unique. The excellent quality of life even better.
"I have Arab clients who spend three to four days in Geneva for shopping and other trivialities but prefer to reside in Montreux during their stay in Switzerland."
Montreux is an international city, probably due to the traditional lyceums of international renown. Some of them have been around for over 100 years. "I have clients in the United Arab Emirates, England and Russia for example, who sent their children this year to Summer Camp at several of these schools. Naturally, they come assiduously too to visit their children."
"Clinique La Prairie, worldwide recognised for its rejuvenation treatments, beauty treatment, detox, post-covid genetic recovery and physical recovery due to stress or excess weight, also serves and international clientele. There are smaller clinics like La Clinique as well or even hotels that work with clinics that offer a similar program, serving clients from all over the world.
Evidently the Montreux Jazz Festival is a great attraction for an international clientele."
"As of the hospitality business, if we look at the statistics supplied by the Tourist Office in Switzerland, we can clearly see that the number of hotel reservations in Montreux is one of the highest compared to other cities in the country. And that is a fact."
I ask what his connection to Music is and he replies that he personally loves all styles of music from A to Z. For him it is an expression of our feelings and moods. It expresses joy, melancholy, helps to reflect. He played drums as a child which probably helped him to understand musical rhythms. He thinks they provide the grip and for him, drums lead a musical band.
Professionally he works with many musicians as well, and is used to book private concerts, tickets for sold out concerts… Everything that is difficult to get in terms of shows, last moment concerts, can be booked through his Firm.
Veltracon Lifestyle Management serves private clients in a differentiated way as well as family offices, but only the "very very very wealthy people". It all started in the western part of Switzerland (Montreux) as an advisory service to attend clients looking for medical treatments as well as willing to find the best schools for their children.

Precisely speaking, he goes, "the annual boarding school fees paid to the Institut Monte Rosa, range from 50 to 150,000 Swiss francs. A week or two of treatment at Clinique La Prairie, the values are around 30 to 50,000 Swiss francs. A clinic that receives influential clients who prefer to spend four to five weeks there. These people require a lot of special attention. I am the contact person to help them, represent them and to meet any requirements they may need or simply have. One of the first Arab clients came with the family and the nannies, the private teachers, and the group totalled 20 people. I helped managing the travel logistics, hiring the private jet, and accommodations, reserving the mansion to ensure more privacy, renting cars with the chauffeurs, the bodyguards. I scheduled visits to Patek Philippe where they wanted to buy an exclusive watch model despite a 10 year waiting list for being a sold-out model. At this point, we realised that this would be a niche market we could serve due to our connections and our professional experience. We serve extremely discreet clients who appreciate having just one person capable of understanding impossible briefings, assisting and meeting demanding tastes, in a one-minute timeframe. Today, we cater to any client demand: sport events, Justin Biber concert ticket, birthday party, fine art advisory, finding a classic car or even organising a yacht vacation departing from Monaco. The scope of our service is individual and tailor made. They are customers used to access the best of the best, they are extremely demanding and super well informed globe trotters. It's all about their private lifestyle. Resuming, we are advisors and not concierges. We offer a broader and personal scope of service that not even American Express is able to offer and individualised service to the top 10% of their clients. We of course work with them."
JS: What is the meaning of time for you?
TD: Clearly time is luxury! Time is essential I would say. We have two types of clients. One type of client is a self-made billionaires business persons, still active and hardworking entrepreneurs who started their business from scratch. People who naturally don't have time and really require help of people like us, who may find the organisational time but lack accessibility to the network we have. Another type of client, are share holders and receive their dividends or are royals, who would never spend the time doing what we do for them. For both types of clients, it's all about saving a precious time to be spent with their children and families, traveling around the world and enjoying great moments according to their high standard lifestyle. We attend all over Europe, the Emirates, like Dubai, the US, Switzerland. As far as I know, we are the only company with such concept and portfolio.
Tim Daum will never right nor publish a book about his work and many past, actual and future stories. Discretion and Excellency are like a Mark Deposée for him and at his Company. His Company offers unsustainable services.
Mathieu Jaton, CEO Montreux Jazz Festival. Managing Director Montreux Media Ventures

Mathieu Jaton, born and raised in Vevey, has been listening to music since his childhood. Clara Haskil was one of the artists his parents would welcome to their home to play their Steinway Piano. He had a blues Band and always dreamt of meeting Claude Nobs. The Warner Music hero was met when Mathieu was 16 years old. He didn't have the slightest idea back then, that he would become at some point the CEO of a Jazz Festival. A festival established by Claude Nobs with the help of his friends including his Father Philip Jaton, whom Claude knew from their Scout's time.

Two years later, the 18 years old young man, was helping Claude Nobs with the famous Festival's Garden parties organised for his Guests at his Chalet. These parties exist since 45 years. Conclusion: the Band became a secondary priority. He went to Lausanne for a degree in Hospitality at the Ecole Hôtelière de Lausanne. Sponsoring and Marketing were topics that were part of the School's curriculum but when his Hero invited him to develop both areas at the Festival the story was different. A few years later, in 2001, Mathieu Jaton was invited to work alongside Claude Nobs by the Montreux Jazz Festival as its Secretary General.
A bit more than 20 years later, Montreux Jazz Festival remains as a well established case of Success, Perseverance and Leadership. Quoting part of Mathieu Jaton's introductory words printed on the Editorial page of our MJF 2022 Press Kit:
"Making our activities annual, reinforcement of our digital footprint, creation of new events, development of a platform for young talent, innovative partnerships, strengthening of international activities: the entire ecosystem of the Montreux Jazz Festival has developed over the last two years.
Using the strength of these experiences, the Festival will draw on the multiple skills of its ecosystem this summer, represented in particular in the new Lake House project. Combining tradition and innovation, this three-storey residency will invite the public and artists on a visual, technological, educational, media and, of course, musical and festive journey.
We are all emerging from this crisis in different ways; some bruised, some stronger, some weakened, some hardened. But let us not forget that a Festival is above all a moment of sharing and celebration, generating moments of happiness and light, while being both insignificant yet indispensable. So whatever the crises in the future, let us never forget that our job is above all to make people dream."
He leads four jazz fronts to ensure a valuable musical legacy. The Montreux Jazz Festival, Montreux Jazz Foundation, Montreux Media Ventures and Montreux Jazz International.

Now is the right time to invest in smaller audiences, giving them the opportunity to educate them offering smaller venues where numerous cultural activities take place around music. Lake House has an art gallery, Cinema and a Library. The concerts are a crossover different Jazz genres delivered by DJs, Film Directors, Musicians, Producers, Collectors and even Sound Engineers.

As of the Jazz Cafe at the Fairmont Palace, it all started in 1991. Claude Nobs and Quincy Jones, decided to use the Bistro at the Fairmont Palace as a space for Jam Sessions after Concerts. The recipes created by CN were named after the artists for whom he cooked. For example: Ella's (Fitzgerald) Cheese Cake or Quincy Jones Marinated Spring Chicken. QJ was in charge of the Jam Session's program. The idea turned into a Brand implemented via leasing by a few airports. According to the Festival's statement, Zurich Airport closed due to contractual reasons. It is, however, present at Geneva's airport and at the EPFL and Geneva City and at the International Montreux Jazz Festivals in Rio de Janeiro, Tokyo and Hangzhou.
The Franchise system is open to any aficionado of good music and fine dining.
Stéphanie-Aloysia Moretti
Artistic Director chez Montreux Jazz Artists Foundation by Montreux Jazz Festival Curator Montreux Jazz Festival Lake House

For Stéphanie-Aloysia Moretti, the Spirit of the Montreux Jazz Festival, is it very much the same… "even though Claude Nobs is no longer with us. Some things have changed of course. Our alchemy however remained the same like from the very beginning and probably that's the reason why we managed to keep the Festival's core-structure safeguarded."

Her other actual Projects are with Pro-Helvetia. For instance a Female Music Festival in Paris and some Concerts at the Instituto Svizzero in Rome. She is also part of an Art Residency Project at the Instituto Svizzero in Venice. She chose the Swiss artist who will stay there around 10 days for a multidisciplinary collaboration with an Italian artist of his choice.
Julieta Schildknecht: What kind of Music are you working with? Is it Dodecaphonic, Minimalist or Jazz Music?
Stéphanie-Aloysia Moretti: Dodecaphonic would be written Music. I am more into Experimental Music. Last weekend I was at a great Festival in San Bernardino, called Floating Notes. They are concerned with today's current state of not written music in parallel to the written contemporary classical music.
JS: Isn't Jazz all about improvisation and non-written Music?
SAM: I began a Podcast this Summer which focuses on the way we understand Jazz. Every day I asked an invited Person to define what is Jazz and obviously what is Liberty. It is all about what improvisation means. I think it is important how we see Jazz. Since my first days at the Festival there has been that Question from Journalists for instance saying we cannot use the term Jazz because Jazz is something else from what we consider as Jazz.
Claude Nobs would say: "Jazz is like a beautiful bunch of Flowers. Flowers are flowers but have different colours and shapes." He was right.
Jazz arrived in Europe through Azerbaijan, the place where the Nobel Brothers discovered Oil from a ground that was always burning. They were in search of wood to make guns but found Gas and Oil. Americans brought on that occasion their slaves from the South in America to Azerbaijan to explore Oil. The Slaves had a background of African Music and were influenced by Gospel Blues played and signed at their Churches in America. The Azerbaijani were producing their oriental folk music called Mugham. That merge created an interesting new music. The Jazz that arrived during and after WWII to Europe was actually a rediscovery of a musical influence from long before Christoph Columbus.
From the sociological perspective, Jazz is linked to the structure of a society. Jazz would be different if we hadn't have the Succession War.
Years ago I was organising a Gospel Mass during the Festival with an Anglican Pastor coming from Australia. He did his studies in America. He was the very first to make me aware of the erotical connotation of Jazz. He would say "it means in fact a boost of energy linked to a sexual intercourse with no political connotation. It isn't blues and has no intellectual connotation either."
JS: What is your connection to music and as the Art Director of the Montreux Jazz Artists Foundation since 2013, why did you decide to implement more energy into an archive?
SAM: I am a Church organist but I don't consider myself a musician. Music for me is the most universal Language. Our aim at the Academy is to bring musicians from around the World to Montreux to work with individual Mentors. Together they have a common Language which is Music in spite of not speaking the same Language. Initially we started with 6 musicians and 6 mentors. Our Academy existed already in 1989 when URSS collapsed and Claude Nobs started bringing musicians from Russia to Montreux. Our Foundation incentives an intense "imparting and exchange between generations and cultures, creativity and liberty of expression."
It changes the way of thinking. In Arabic for instance, you have singular, plural but there is the dual way of speaking. The relationship between two people isn't plural. I like this idea of intimate relationship with someone that is focused only on someone. Music however is the absolut and universal Language.
As an historian it was important to work more attentively on the base of an existent cultural patrimony encompassing visual and musical history which differentiates our Festival from other Festivals. There aren't innovations but the roots are important, must be catalogued as a source for research and future knowledge.
JS: Why did you decide to open the Lake House at the Petit Palais, a former Tea Room and Sports Place built in 1911?
SAM: It is a multiple building nearby the Congress House Center. It is small, it is under protection and was used in 1972 due to the Casino Fire end of 1971. We had therefore already a relationship to the art nouveau building. Its location and dimension are crucial for us. I think that the mix of two different floors for two different kinds of activities/venues is interesting. Perhaps I am nostalgic of the the Casino time which is the time I started working at the Festival. We started as a team of 20 with 300 to 400 volunteers now a days we have 2'000 volunteers. Having a smaller House you recreate all the interaction between the workers and their duties. The interaction between the different typology of musicians is also much easier: upstairs DJ's downstairs Jamsession, in parallel to a presentation and screening in the Cinema, and a Book discussion at the Library or even a LP launch. The great mix of atmospheres is possible and striking.
As former part of the Board of the Ecole of Jazz and Music Actual in Lausanne, the Board where Mathieu Jaton is taking part now, the place where you can find the biggest Library of non-written Music in Switzerland. Since all schools are closed during the summertime, I saw this as an opportunity to make part of their Library accessible to people visiting the Lake House. I picked around 600 books which I thought would be easily readable for Jazz aficionados without musical ambitions. I organised them chronologically and stylistically.

There are many young people who don't read books nor go to Libraries unless if required as part of their school program. Obviously they prefer to use their computers or cellular phones.
It was fulfilling to see many young people coming to the Lake House Library grabbing books because of their interesting covers. They would next seat for an hour with that book.
In the same Library we had a collection of Montreux Jazz Festival's LPS which I started to build some time ago. We have many recorded concerts on LPs but no track of all of them. The Festival would trade lower fees by free use of their audio recorded concerts. This Summer we had around 300 LPs and I believe we are still additional 100 LPs. I daily asked 5 different people to talk about an LP they would choose. There were different approaches because the person was a sound engineer or the artist himself like Charles Lloyd or John McLoughlin or even someone who was at the Hall and attended the recorded concert or a person who worked with the artist or a journalist.
We had for instance the Head of the International Red Cross Museum who spoke about a LP from Nina Simone from the political strike angle.
JS: Could you define the Lake House as an archive or just a Festival's additional event space?
SAM: I think it is a living archive. It is an archive because it is the patrimony of our Festival, it is the history of what happened in Montreux during the Jazz Festival. Like any or every important historical moment. This Summer we opened and shared for the first time what was hidden.
JS: Where is this Archive being stored?
SAM: There is no official place but we are opening our archive during the Fall at a Festival we started three years ago. It is a smaller, more intime, educative and entertaining festival taking place end of November in Montreux.
JS: Are you building up a culture or intervening in the environment of Jazz?
SAM: We stimulate listeners curiosity to new discoveries. On the Fall Festival for instance, we offer besides an entertaining program some educative workshops which attract an audience coming from all parts of Switzerland to spend a week in Montreux while attending the Festival.
It is an indoors venue that happens at the Petit Palais from the Fairmont Palace. It isn't about big crowds of listeners standing on line to get a ticket. They are not interested in having fun by the Lake under the sun. We made the festival for a smaller audience who has a better opportunity to dive and experience music on another level.
JS: How sustainable and what is the purpose of the Archive? Create an archive for a future generation to thinking about Jazz on a long term? Is the archive going to always open during the time both Jazz are running?
SAM: We don't have the Problem most of the Classical music Festivals have, an audience of mainly elder age. The spectrum of ages our Jazz Festivals attract is broad and we are aware of the younger generation. We know that the term Jazz was seen as an intellectual manifestation. It is as there would be a cession between virtuosity on a classical point of view, intellectual as in Jazz and Pop music. We want the younger generation to know that Jazz is part of Pop music. Tickets for Jazz concerts are more expensive because of costs required for the production of concerts.

The Turkish pianist Fasil Say for instance was one of the first classical piano players we invited for the Festival. Claude Nobs and I, met him at the Verbier Festival. He always wanted to experiment more than just written scores. He didn't have the liberty to do it since he is hired by Classical Halls where he is supposed to play specific compositions on specific pianos. Two years later after our meeting, when Turkey first asked to become part of Europe, Fasil came to Montreux and recorded Rondo alla Turca (Alla Turca Jazz) which was a re appropriation of a classical occidental piece written by Mozart linked to an orientalism from that time and played as a Turkish march.
Montreux is a melting pot of people from different countries. Claude Nobs goal was to offer a free space to musicians and audiences coming from all over the world.
JS: Could you speak about the digital art exhibition you had this year at Lake House?
SM: I think it is too early to speak about NFTs and we don't have much to show yet. I am curious however to watch how it evolves. Montreux Jazz Festival has always been so innovative in technology! The idea behind those five screens by Greg Guillemin was related to sound but were actual images which were made for the Festival's 56th Edition. Camille Walala created NFTs of five different images which are tangible on posters. One NFT was offered for free at the OneOf platform only until July 16, the last day of the Festival.
JS: Are you keeping Digital Art exhibitions as part of Lake House Program?
SM: For the moment there are so few artists producing Digital Art that it is difficult to say. I am positive the situation will be different next year in face of the rapid changes.
The Sociologist, Art-Historian and Philologist, speaks ancient Greek and Arabic. Born and raised in Vevey, is married to a set-designer and lives in a house once a coal factory by the Lake of Geneva. Stéphanie-Aloysia Moretti is part of a team of 4 professionals who have been working over 30 years at/for/with the Montreux Jazz Festival. She is the curator of The Lake House and the Artistic Director of the Montreux Jazz Artists Foundation. Since 2017, she is a Member of the Experts Commission at Pro Helvetia. Since 2012 Stéphanie Moretti has been a visiting Lecturer at Berklee College of Music's Institut of Creative Entrepreneurship.
(Photo by Mehdi Benkler)
NACH OBEN