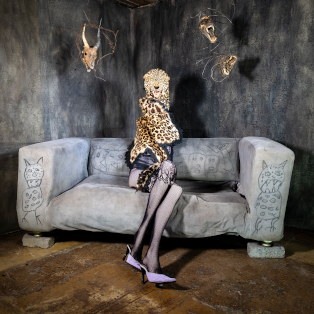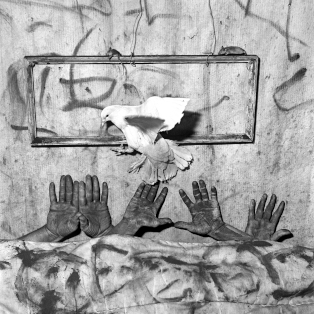 «Roger Ballen: Photographer of contemporary art photography»
Roger Ballen is one of the worldwide superstars of the contemporary art photography. As well as his excellent photographic work, the PhD in Geology, who studied Psychology, worked with minerals for 25 years until he could make a living from his photography.
He has been photographing since he was 17 years old, he has never stopped photographing and cannot imagine himself without photography.
I met the Artist the first time when he came to my "De Profundis" Opening at Tinguely Museum. He was introduced to me by a mutual friend, Guido Magnaguagno, then Director of the Museum.
This interview is the result of two conversations we had in London in 2017 during the final preparations for his book "Ballenesque: Roger Ballen: A Retrospective" that was published in September 2017. The 2nd edition of the book with more than 300 photographs produced between 70s and 2022 was published in February 2022.
We started our interview during a brunch a few meters from Thames & Hudson Publishing and finished our interview the next day at the Hamilton Gallery, where he was exhibiting "The Theater of Apparitions" an eight-year photo project that lasted until 2016.
In spite of his tight Schedule and with little time to even feed himself, what he doesn't lack is that adopted peculiar South African humour which works well during circumstances of great stress.

Julieta Schildknecht: What are you doing now Roger?
Roger Ballen: Roger is eating scrambled eggs!
Before starting the interview, he comments that he considers his career of more than 50 years as a career focused on the Enigma of Humanity.
I start by asking about drawing and the short film he produced for his exhibition The Theater of Apparitions.

RB: The Apparitions Project was done at a time when drawing started becoming a very important part of my work. Beginning of 2002 Portraiture disappeared in my work and it was replaced by integrating drawing, sculpture, painting and installations. The photos however remained true photography.

Hamilton Gallery was showing a collection of ghostly images of fossil like faces and vaporous shadows.The gallery had all walls painted in dark grey and there was only light on the artists' pictures. The animated film produced in London, The Theatre of Apparitions was also shown.

RB: Look, I like creating parallel artistic works. They are not separate and they expand the aesthetic of the project. By seeing a film where the figures are animated, it gives you an expanded understanding of what I was trying to achieve. I am trying to do videos with my major projects. The pictures at the gallery work best with low light and spot light. It is important to keep a sense of luminosity because they are basically photographs of human ghosts. What is an Apparition in english? It's like from the spirit world. Basically I am photographing the so called spirit world. This kind of world is mostly identified in the archetypal mind as a place of night. You don't think of ghosts walking around here during the day. People think it only happens at night.

He further explains why he remains a B x W photographer.
RB: I like the fact that BxW is an abstract art form, it doesn't pretend to capture reality. It is just an artistic media of its own reality. My aesthetic is inseparable of Black and White. I understand Black and White photography.
Roger Ballen is one of the worldwide superstars of the contemporary art photography. As well as his excellent photographic work, the PhD in Geology, who studied Psychology, worked with minerals for 25 years until he could make a living from his photography.

JS: Do you see the world in Black and White?
RB: No! I am looking in colour. People ask me if I dream in Black and White.

JS: Why are Lines, Life and Light so important for you?
RB: Yes, Line is important; Form is important; Mass is important; the illusion of reality is important. Every picture is made up of thousands of decisions- not just one decision. Like a painting is made up of thousands of brush strokes.

JS: How does your creative process starts?
RB: It starts with a creative mind. Like a Buddhist mind. There is no need to think about anything until I am there. It's like an animal. I know nothing when I go "there". My job is to go there where my conscious and subconscious mind work with the process of taking the picture. I can't predict the future so I don't think about the picture until I get to the end result. I go through the process with a quiet mind. That's when the mind works the best. We don't do things well if we work with and anxious and tense mind.

JS: Every photographer has a different process. How many years are needed until you find out what the artwork is all about?
RB: I have been using film all these years. I found out that I am able to say if a picture is good two to three days after the film is developed. Good pictures come actually quick. You don't have to contemplate the picture. The good pictures are immediately recognisable. They give you electricity, they make you jump a bit! Good pictures have an impact in my inner mind.

JS: Are you using cave drawings as a source of inspiration to your work?
RB: Could be yes, because my pictures are very primitive and archetypal. Cave drawings are archetypal and occurs in a dark space. One of the reasons why I think these pictures have impact on people, is they may correlate with the primitive mind evolution. You can't prove any of this. If we are looking at brain cells, why are they working the way they work? Why do they capture reactions to certain pictures? What makes something archetypal? How does a brain cell work? I believe nobody knows.

JS: How do you see darkness and happiness on your photography?
RB: Happiness is a feeling of unity, is a feeling of unity in yourself; between the two parts of yourself. In my opinion, most of the time people aren't unified, they are repressed. The problem in the World is that the population are living under an emotional and psychological repression. I am not referring to political nor cultural repression. I am referring to emotional repression. They are not in touch with their identity in any way. That's the great thing about being involved with art. I am involved with my art therefore entirely involved with my being and getting to know my essence. It is a great journey. Personally it is the most important journey. My artwork is my biography, my diary. Roger Ballen's diary! When I am dead I will be leaving the essence of me to posterity. The places where I work are very rough, dangerous and unstable. I get along well with people and I don't create issues.

JS: Thinking of lost civilisations and Ernst H. Gombrich when he analyses artistic depictions of cave paintings in his books about the World, I would like to ask you if you see us living in a theatrical environment?
RB: Maybe,philosophically speaking, life may be a material being's Theater. Yes, it could be a Theater. It could also be Nothing. I can't describe reality. The real essence is that you have no understanding of human beings. Reality is a total illusion. There is no way of understanding reality.

JS: Are your Archetypes almost close to cliches perhaps?
RB: No, they are not. There are two types of Archetypes. There is the commercial archetype and there is the evolutionary archetype. The commercial one is for instance a women wearing a bathing suit? That is perceived as beauty. A celebrity wearing a fur coat? That is beauty. Lets say someone from Saudi Arabia wouldn't see the women with the bathing suit as beautiful. They would see it as threatening. On the other hand, the colour Red is an evolutionary archetype. It relates to fire. Maybe power but mostly fire. It is more basic, it comes from the animal side.
JS: A photographer has three different eyes. The eyes which see and the eye of a camera. Could you say that the intuition could be defined as a photographer's different kind of seeing?
RB: This is the problem! The camera is also a very objective instrument. Most people get their feeling too involved in the picture. As a result, they don't turn out well. There is a science and an art. If you want to take good pictures you have to understand how the science of photography works. That's when you are able to create pictures that elicit emotional response.

JS: How about our Anima and our Folklore, how do they correlate ?
RB: The Anima is the primitive subconscious mind. I can't prove it but I hear my pictures can bring somehow people to that subconscious state. On the other hand, my artwork has nothing to do with South African folklore.

JS: How did you end up in South Africa?
RB: In 1974 I hitch hiked with a back-pack from America to Cape Town and to Istanbul . I liked South Africa, that mixture of first world and third world. America was alienating to me and I wanted to work with Geology so I returned. I have been there since 1982.

JS: Lets talk about the technic of your photography and Apparitions. What does is make it so special?

RB: Do you see the windows there? I used windows to draw on and experimented with different paints and glues to achieve the ghostlike images. They are photographs of drawings done on window glass. I painted over the windows in black and then selectively removed some of the black to let the light through. The photographs were done with ony natural diagonal light from the inside. Evrything was done on normal B & W 6×6 film shot with a big Rolleiflex Camera.

JS: Do you like daguerreotype?
RB: I know it, but The Apparition project was done with normal black and white film. In this case Tmax film.

JS: Are you curating your own work?
RB: Not really but I like to get involved with the montage of the exhibition because I have enough experience to know what works best with my pictures. I prefer to avoid mistakes. I can't do everything but it is better to keep some control. I try to help with the framing but if the Gallerists know what they are doing I give them more freedom to decide. Grey walls give my photographs an important dimension, I don't like white walls for them.

JS: You have your artwork as part of many Museum's collections. What is the difference between exhibiting in Gallery and a Museum?

RB: The Museum is basically set to reveal the artist, to study the artist and to make a statement about the artist. It isn't a commercial enterprise. The Gallery's purposes are related to business. The Museum is a business but isn't seen as a business. It's more of an Academia., a cultural institution..
NACH OBEN